Lula Hypermarket and Oxford Business Group team up for latest project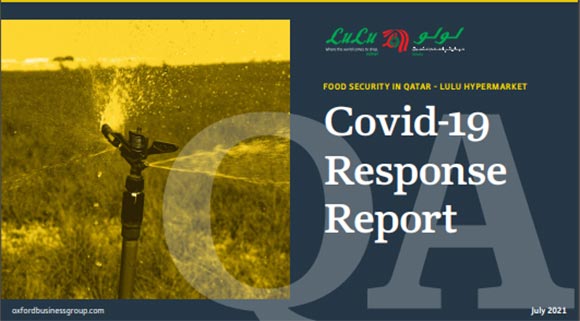 Doha, July 25, 2021: A new Covid-19 Response Report produced by Oxford Business Group (OBG) in partnership with the retail chain Lula Hypermarket, maps out Qatar's successful efforts to strengthen food security and enhance self-sufficiency by stepping up domestic production capacity and easing reliance on imports.
Titled "Food Security in Qatar", the report provides in-depth analysis of the topic, ranging from food production to retail, in an easy-to-navigate and accessible format, supported by key data and infographics.
The report explores Qatar's preparedness for the food security challenges that accompanied the pandemic, which led to a sharpened focus on agri-tech solutions, such as vertical farming and hydroponic techniques.
The report is now ready to view and download at https://oxfordbusinessgroup.com/news/report-how-has-covid-19-pandemic-impacted-qatars-food-security
In this section, subscribers will find coverage of the key role earmarked for food retailers in supporting Qatari farmers as they look to scale up production and move their goods to market quickly and efficiently.
With lifestyle-related diseases, such as obesity and diabetes, a concern, the report also considers the part that food retailers could play in ensuring healthy food options are widely available at affordable prices.
Other topical issues explored include the expansion of e-commerce offerings, which accelerated during the pandemic and are expected to support food security goals over time by ensuring essential food items are always available.
The report charts the critical role Lulu is playing in Qatar's efforts to meet its self-sufficiency
targets, which include engaging closely with domestic famers to ensure a consistent and quality supply of local produce in its stores.
It also looks in detail at the measures Lulu implemented to keep both staff and shoppers safe during the pandemic, which included maintaining strict social distancing, implementing personal protection and hygiene procedures, and providing e-commerce and digital payment options.
In addition, the report includes an interview with Mohamed Althaf, Lulu Group International's Director, in which he shares his thoughts on several topical issues, including the lessons Qatar learned from the trade restrictions imposed by some Gulf neighbours in 2017 ahead of the pandemic.
"Qatar diversified its sources of food imports, recalibrated various supply chains, upgraded logistics capabilities with a new port, streamlined cargo movements at the airport, and enhanced storage and cold-chain facilities," he said. "As a result, the country was in a relatively resilient position in terms of food security when the pandemic began."
Jana Treeck, OBG's Managing Director for the Middle East, said Qatar's food security initiatives dovetail well with global initiatives and targets from the Food and Agriculture Organization of the United Nations, while its efforts to diversify the national economy were already delivering results before the Covid-19 outbreak.
"The pandemic has sharpened the focus on food security and the challenges relating to it, with the September 2021 UN Food Systems Summit expected to strengthen international engagement on how to combat this topical issue," Treeck said. "Against this backdrop, we expect to see a rapid expansion in the global agri-tech market, with Qatar, alongside other markets in the Gulf, ripe for investment."
The report on food security in Qatar forms part of a series of tailored reports that OBG is currently producing with its partners, alongside other highly relevant, go-to research tools, including a range of country-specific Growth and Recovery Outlook articles and interviews.
| | |
| --- | --- |
| | Previous Story : Standard Chartered Global Focus Q3 2021: Navigating a Vulner... |
| | |
| --- | --- |
| Next Story : Bedaya Center Hosts Feasibility Study Impact Workshop for En... | |